advocate

ad·vo·cate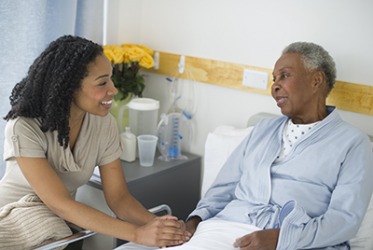 Beverly is the advocate for her mother during her stay at the hospital.
noun
The definition of an advocate is someone who fights for something or someone, especially someone who fights for the rights of others.

An example of an advocate is a lawyer who specializes in child protection and who speaks for abused children in court.
verb
Advocate is defined as to speak, write or stand up for something or someone.

An example of advocate is a parent fighting for special education services for her child.
---
advocate
a person who pleads another's cause; specif., a lawyer
a person who speaks or writes in support of something: an advocate of lower taxes
Origin of advocate
Middle English
advocat, avocat
from Classical Latin
advocatus
, a counselor from
advocare
, to summon (for aid) from
ad-
, to +
vocare
, to call
transitive verb
-·cat·ed

,

-·cat·ing
to speak or write in support of; be in favor of
Origin of advocate
< advocatethe noun
---
advocate
verb
ad·vo·cat·ed, ad·vo·cat·ing, ad·vo·cates
verb
transitive
To speak, plead, or argue in favor of:
advocate a vegan diet.
See Synonyms at
support
.
verb
intransitive
Usage Problem To act as an advocate: advocated for her patients; advocated for more stringent crime laws.
noun
One that argues for a cause; a supporter or defender: an advocate of civil rights.
One that pleads in another's behalf; an intercessor: advocates for abused children and spouses.
A lawyer.
Origin of advocate
From
Middle English
advocat
lawyer
from
Old French
advocat
from
Latin
advocātus
past participle of
advocāre
to summon for counsel
ad-
ad-
vocāre
to call
; see
wekw-
in Indo-European roots.
Related Forms:
ad′vo·ca′tive ad·voc′a·to′ry

adjective
Usage Note: The standard form of the verb advocate is transitive, meaning "endorse" or "argue for," as in The teacher advocated a new educational technique, which was accepted by 85 percent of the Usage Panel in our 2014 survey. Many readers balk when the verb is used to express the same meaning in an intransitive form with the preposition for : less than half (45 percent) of the Panel approved of The teacher advocated for a new educational technique. The intransitive is more acceptable, however, when the object of for is the beneficiary of the advocacy rather than the idea or action being advocated: two-thirds of the Panel approved The teacher advocated for her at-risk students. A careful writer will use transitive advocate in sentences indicating the idea or action, restricting the intransitive to sentences indicating the beneficiaries.
---
advocate

---
advocate - Legal Definition
n
One who actively assists, defends, pleads, prosecutes, speaks, writes, or otherwise supports the cause of another.
n
A lawyer.
v
To speak, write, or otherwise support a cause by argument.
---