balance

Bal·ance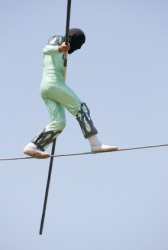 A man balancing on a tight rope.
noun
The definition of balance is the amount of something left over after additions and subtractions have been made.

An example of balance is the money owed on taxes after all income has been calculated and deductions have been figured.

Balance is defined as being able to remain upright and walk gracefully, or a state of equality, an emotionally and mentally stable mind or the presentation of both sides of an issue.

An example of balance is being able to walk on a tight rope.
An example of balance is when a person divides his time evenly between work, family, and personal pleasure.
An example of balance is a person who doesn't get upset very often and doesn't let the little things bother them.
An example of balance is a paper that presents information both in favor of and against abortion or the death penalty.
verb
Balance means to make something even in weight, size, or amount or to arrange something to make it appear pleasing.

An example of balance is when a person places two objects of the same size on a scale.
An example of balance is making a flower arrangement have similar sizes and colors so that no particular piece sticks out or looks out of place.
---
balance
an instrument for weighing, esp. one that opposes equal weights, as in two matched shallow pans hanging from either end of a lever supported exactly in the middle; scales
the imaginary scales of fortune or fate, as an emblem of justice or the power to decide
the power or ability to decide
a state of equilibrium or equipoise; equality in amount, weight, value, or importance, as between two things or the parts of a thing
bodily equilibrium or stability: he kept his balance on the tightrope
mental or emotional stability

the pleasing harmony of various elements in a design, painting, musical composition, etc.; harmonious proportion
a setting of clauses, phrases, ideas, etc. in parallel constructions for rhetorical effect

a weight, force, effect, etc. that counteracts another or causes equilibrium; counterpoise
the point along an object's length at which there is equilibrium

equality of debits and credits in an account
the excess of credits over debits or of debits over credits

the amount still owed after a partial settlement
whatever is left over; remainder
the act of balancing
balance wheel
Origin of balance
Middle English and OFr, probably via Medieval Latin from Vulgar Latin an unverified form
bilancia
from Late Latin
bilanx,
having two scales from Classical Latin
bis,
twice +
lanx
, a dish, scale from Indo-European an unverified form
elek-
, extended stem of base an unverified form
el-
, to bend from source elbow
transitive verb
-·anced

,

-·anc·ing
to weigh in or as in a balance
to compare as to relative importance, value, etc.
to counterpoise or counteract; make up for; offset
to bring into or keep in a state of equilibrium or equipoise; keep steady; poise: to balance oneself on stilts
to bring into proportion, harmony, etc.
to make or be proportionate to; make or be equal to in weight, force, effect, etc.

to find any difference that may exist between the debit and credit sides of (an account); also, to equalize the debit and credit sides of (an account)
to settle (an account) by paying debts

Dancing

to move toward and then back from (a partner)
to be in equilibrium
to be equal in value, weight, etc.
to have the credit and debit sides equal to each other
to waver slightly; tilt and return to equilibrium

Dancing

to balance partners
in the balance
in a critical, undecided state
off balance
while in an awkward or unbalanced position: to throw a ball off balance
not proportional or harmonious; not in equilibrium
unready; unprepared: a question that catches someone off balance
on balance
considering everything; all in all
the Balance
Libra, the constellation and seventh sign of the zodiac
---
balance
noun
A weighing device, especially one consisting of a rigid beam horizontally suspended by a low-friction support at its center, with identical weighing pans hung at either end, one of which holds an unknown weight while the effective weight in the other is increased by known amounts until the beam is level and motionless. Also called scale .
A state of equilibrium or parity characterized by cancellation of all forces by equal opposing forces.
The power or means to decide: matters that fell outside the judge's balance.

a. A state of bodily equilibrium: thrown off balance by a gust of wind.

b. The ability to maintain bodily equilibrium: Gymnasts must have good balance.

A harmonious or satisfying arrangement or proportion of parts or elements, as in a design.
An influence or force tending to produce equilibrium; counterpoise.
The difference in magnitude between opposing forces or influences.
Accounting

a. Equality of totals in the debit and credit sides of an account.

b. The difference between such totals, either on the credit or the debit side.

Something that is left over; a remainder.
Chemistry Equality of mass and net electric charge of reacting species on each side of an equation.
Mathematics Equality with respect to the net number of reduced symbolic quantities on each side of an equation.
A balance wheel.
verb
bal·anced, bal·anc·ing, bal·anc·es
verb
transitive
To determine the weight of (something) in a weighing device.
To consider and compare or assess: balanced the pros and cons before making a choice.
To bring into or maintain in a state of equilibrium.
To act as an equalizing weight or force to; counterbalance.
Accounting

a. To compute the difference between the debits and credits of (an account).

b. To reconcile or equalize the sums of the debits and credits of (an account).

c. To settle (an account, for example) by paying what is owed.

To bring into or keep in equal or satisfying proportion or harmony.
Mathematics & Chemistry To bring (an equation) into balance.
To move toward and then away from (a dance partner).
verb
intransitive
To be in or come into equilibrium.
To be equal or equivalent.
To sway or waver as if losing or regaining equilibrium.
To move toward and then away from a dance partner.
Origin of balance
Middle English
balaunce
from
Old French
from
Vulgar Latin
bilancia
having two scale pans
from
Latin
bilānx
bi-
two
; see
dwo-
in Indo-European roots.
lānx
scale
Related Forms:
Balance
---
balance

Noun
(countable and uncountable, plural balances)
(uncountable) a state in which opposing forces harmonise; equilibrium
(uncountable) mental equilibrium; mental health; calmness, a state of remaining clear-headed and unperturbed
something of equal weight used to provide equilibrium (literally or figuratively); counterweight

These weights are used as a balance for the overhanging verandah.
Blair thought he could provide a useful balance to Bush's policies.

a pair of scales
(uncountable) awareness of both viewpoints or matters; neutrality; rationality; objectivity
(uncountable) the overall result of conflicting forces, opinions etc.; the influence which ultimately "weighs" more than others

The balance of power finally lay with the Royalist forces.
I think the balance of opinion is that we should get out while we're ahead.

(uncountable) apparent harmony in art (between differing colours, sounds, etc.)
(accounting) the result of such a procedure; the difference between credit and debit of an account.

I just need to nip to a bank and check my balance.

(watchmaking) a device used to regulate the speed of a watch, clock etc.
(law) the remainder.

The balance of the agreement remains in effect.
Verb
(third-person singular simple present balances, present participle balancing, simple past and past participle balanced)
To bring to an equipoise, as the scales of a balance by adjusting the weights.
To make (items) weigh up.
(figuratively) To make (concepts) agree.
To hold (an object or objects) precariously; to support on a narrow base, so as to keep from falling.

I balanced my mug of coffee on my knee.
The circus performer balances a plate on the end of a baton.

To compare in relative force, importance, value, etc.; to estimate.
(dancing) To move toward, and then back from, reciprocally.

to balance partners

(nautical) To contract, as a sail, into a narrower compass.

to balance the boom mainsail

To make the credits and debits of (an account) correspond.

This final payment, or credit, balances the account.
to balance a set of books

(intransitive) To be in equilibrium.
(intransitive) To have matching credits and debits.
Origin
From Middle French balance, from Late Latin *bilancia, from (accusative form of) Latin bilanx ("two-scaled"), from bi- + lanx ("plate, scale").
---
balance - Legal Definition
n
To determine the difference between the sum of the credits and the sum of the debits of an account.
v
The act of estimating, measuring, or weighing two things in comparison to each other. For example, the balancing of the risks and benefits of filing a lawsuit.
v
To offset or counteract.
v
To place or keep in equilibrium or proportion, such as balancing competing interests.
n
The result of balancing.
---