claim

claim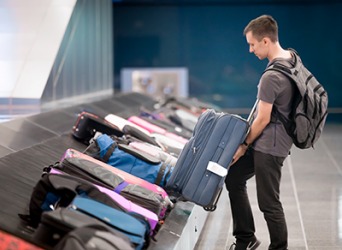 The passenger retrieved his luggage from the baggage claim area.
noun
The definition of a claim is a demand for something which is due.

An example of claim is a document given to the insurance company stating money is wanted for car damages.
verb
Claim means to take or assert ownership of something or to state something as true.

An example of claim is to recover a lost jacket from the lost and found.
An example of claim is to announce that a specific person was responsible for a specific mistake.
---
claim
to demand or ask for as rightfully belonging or due to one; assert one's right to (a title, accomplishment, etc. that should be recognized): to claim a record in the high jump
to call for; require; deserve: a problem that claims attention
to state as a fact or as one's belief (something that may be called into question); assert
Origin of claim
Middle English
claimen
from Old French
claimer,
to call, claim from Classical Latin
clamare,
to cry out: see clamor
a demand for something rightfully or allegedly due
a right or title to something: her sole claim to fame
something claimed, as

a piece of land staked out by a settler or miner
money demanded for an insurance settlement

a statement, as a fact, of something that may be called into question; assertion
lay claim to
to assert one's right or title to
---
claim
transitive verb
claimed, claim·ing, claims
To demand, ask for, or take as one's own or one's due: claim a reward; claim one's luggage at the airport carousel.
To take in a violent manner as if by right: a hurricane that claimed two lives.
To state to be true, especially when open to question; assert or maintain: claimed he had won the race; a candidate claiming many supporters.
To deserve or call for; require: problems that claim her attention.
noun
A demand for something as rightful or due.
A basis for demanding something; a title or right.
Something claimed in a formal or legal manner, especially a tract of public land staked out by a miner or homesteader.

a. A demand for payment in accordance with an insurance policy or other formal arrangement.

b. The sum of money demanded.

A statement of something as a fact; an assertion of truth: makes no claim to be a cure.
Origin of claim
Middle English
claimen
from
Old French
clamer
claim-
from
Latin
clāmāre
to call
; see
kelə-
2
in Indo-European roots.
Related Forms:
---
claim

---
claim - Legal Definition
v
A demand for money or property.
n
An assertion that one is entitled to, or the perceived or actual right to receive, money or property.
n
The totality of facts that gives rise to a right to receive money or property that is enforceable in court.
n
In some states and in the federal courts, the same as claim for relief.
---