color

col·or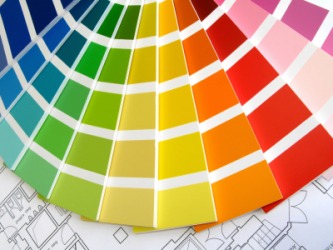 Cards of color samples for paint.
noun
The definition of color is a component of light which is separated when it is reflected off of an object.

An example of color is the blue in a rainbow.
verb
To color something is to add a hue, shade, paint or dye to an object or picture.

An example of color is when a child uses crayons to complete a design on paper.
---
color
the sensation resulting from stimulation of the retina of the eye by light waves of certain lengths
the property of reflecting light of a particular wavelength: the distinct colors of the spectrum are red, orange, yellow, green, blue, indigo, and violet, each of these shading into the next; the primary colors of the spectrum are red, green, and blue, the light beams of which variously combined can produce any of the colors
any coloring matter; dye; pigment; paint: the primary colors of paints, pigments, etc. are red, yellow, and blue, which, when mixed in various ways, produce the secondary colors (green, orange, purple, etc.): black, white, and gray are often called colors (achromatic colors), although black is caused by the complete absorption of light rays, white by the reflection of all the rays that produce color, and gray by an imperfect absorption of all these rays
any color other than black, white, or gray; chromatic color: color is distinguished by the qualities of hue (as red, brown, yellow, etc.), lightness (for pigmented surfaces) or brightness (for light itself), and saturation (the degree of intensity of a hue)
color of the face; esp., a healthy rosiness or a blush
the color of a person's skin
skin pigmentation of a particular people or racial group, esp. when non-Caucasoid
[pl.] a colored badge, ribbon, costume, etc. that identifies the wearer's rank, group, etc.
[pl.]

a flag or banner of a country, regiment, etc.
the armed forces of a country, symbolized by the flag: to serve with the colors

[pl.] the side that a person is on; position or opinion: stick to your colors
outward appearance or semblance; plausibility
appearance of truth, likelihood, validity, or right; justification: the circumstances gave color to his contention
general nature; character: the color of his mind
vivid quality or character, as in a personality, literary work, etc.

Art

the way of using color, esp. to gain a total effect

Law

an apparent or prima-facie right

Mining

a trace of gold found in panning

Music

timbre, as of a voice or instrument; tone color
elaborate ornamentation

Particle Physics

a unique force or charge on each type of quark that controls how quarks combine to form hadrons: although called red, green, and blue, they are not related to visual colors
reproduction of images in chromatic colors rather than in black, white, and gray
colorful details, background data, etc. supplied by a sports commentator between play-by-play descriptions of the action
Origin of color
Middle English and Old French
colour
from Classical Latin
color
from Old Latin
colos,
origin, originally , a covering from Indo-European base an unverified form
kel-,
to conceal, hide from source hull, hall
designating or of a sports commentator who supplies color (noun)
to give color to; impregnate or cover with color, as with paint, stain, or dye
to change the color of
to give a pleasing, convincing, or reasonable appearance to; make plausible
to alter or influence to some degree, as by distortion or exaggeration: prejudice colored his views
Origin of color
L
colorare
to become colored
to change color, as ripening fruit
to blush or flush
to engage in the child's pastime of drawing or coloring pictures with wax crayons, etc.
call to the colors
call or order to serve in the armed forces

Mil.

a bugle call for the daily flag-raising and flag-lowering ceremonies
change color
to become pale
to blush or flush
of color
who is nonwhite; now esp., who is black: a woman of color
show one's (true) colors
to reveal one's true self
to make one's opinions, position, etc. known
under color of
under the pretext or guise of
---
color
noun
That aspect of things that is caused by differing qualities of the light reflected or emitted by them, definable in terms of the observer or of the light, as:

a. The appearance of objects or light sources described in terms of the individual's perception of them, involving hue, lightness, and saturation for objects, and hue, brightness, and saturation for light sources.

b. The characteristics of light by which the individual is made aware of objects or light sources through the receptors of the eye, described in terms of dominant wavelength, luminance, and purity.

c. A gradation or variation of this aspect, especially when other than black, white, or gray; a hue: fireworks that exploded in brilliant colors.

A substance, such as a dye, pigment, or paint, that imparts a hue.

a. The use of different colors in visual representation.

b. The different colors used in visual representation: one of the earliest movies in color.

a. The general appearance of the skin, especially as an indication of good health: regained her color after a few days' rest.

b. A reddening of the face, as a blush or sign of anger.

Skin pigmentation considered as a racial characteristic or a marker of racial identity, especially when other than white: "My father told me if I go west, there's integration; you don't worry about color" ( Itabari Njeri ) See Usage Note at person of color.
colors

a. A colored item, such as a badge, ribbon, or piece of clothing, serving as an identifying mark: wore the colors of their college.

b. A flag or banner, as of a country or military unit: a ship flying the colors of Brazil.

c. The salute made during the ceremony of raising or lowering a flag.

colors One's opinion or position: Stick to your colors.
often colors Character or nature: revealed their true colors.

a. An outward and often deceptive appearance: a tale with the merest color of truth.

b. Appearance of authenticity: testimony that lends color to an otherwise absurd notion.

c. Law The appearance of a legal claim, as to a right or office.

a. Vividness or variety in expression: a story told with a lot of color.

b. Commentary distinguished by vivid details or background information, as during a sports broadcast: A former coach provided the color for the championship game.

Local color.
The use or effect of pigment in painting, as distinct from form.
Music Quality of tone or timbre.
A particle or bit of gold found in auriferous gravel or sand.
Physics See color charge.
Astronomy See color index.
verb
col·ored, col·or·ing, col·ors
verb
transitive
To impart color to or change the color of.

a. To give a distinctive character or quality to; modify: "Both books are colored by the author's childhood experiences" ( Deborah M. Locke )

b. To exert an influence on; affect: The war colored the soldier's life.

a. To misrepresent, especially by distortion or exaggeration: color the facts.

b. To gloss over; excuse: a parent who colored the children's lies.
verb
intransitive
a. To take on color.

b. To change color.

To become red in the face; redden or blush.
Origin of color
Middle English
colour
from
Old French
from
Latin
color
; see
kel-
1
in Indo-European roots.
Related Forms:
color
---
color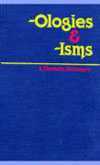 achromaticity
1.
the total absence of color.
2.
the ability to emit, reflect, or transmit light without breaking down into separate colors. Also
achromatism.
achromatopsia
color blindness. Also called
acritochromacy
.
acyanoblepsia
a variety of color blindness characterized by an inability to distinguish blue.
albescence
the condition of being or becoming white or whitish. —
albescent
,
adj
.
albication
the process of turning white or whitish.
chatoyancy
the condition or quality of changing in color or luster depending on the angle of light, exhibited especially by a gemstone that reflects a single shaft of light when cut in cabochon form. —
chatoyant
,
adj
.
chromatics
the branch of opties that studies the properties of colors.
chromatism
1.
Opties
, dispersion or distortion of color.
2.
abnormal coloration. See also
botany
.
chromatology
the study of colors. Also called
chromatography
.
chromatrope
an instrument consisting of an arrangement of colored dises which, when rotated rapidly, give the impression of colors flowing to or from the center.
chromophobia
an abnormal fear of colors.
chromoptometer
a device for measuring the degree of a person's sense of color.
chromotypography, chromotypy
the process of color printing.
colorimetry
the measurement of the physical intensity of colors, as opposed to their subjective brightness. —
colorimeter
,
n
. —
colorimetric, colorimetrical
,
adj
.
cyanometry
the measurement of the intensity of the sky's blue color. —
cyanometer
,
n
. —
cyanometric
,
adj
.
Daltonism
red-green color blindness.
deuteranopia
a defect of the eyesight in which the retina does not respond to green. —
deuteranope
,
n
. —
deuteranopic
,
adj
.
dichroism
a property, peculiar to certain crystals, of reflecting light in two different colors when viewed from two different directions. —
dichroic
,
adj
.
dichromatism
1.
the quality of being dichromatic, or having two colors.
2.
a form of color blindness in which the sufferer can perceive only two of the three primary colors and their variants. —
dichromatic
,
adj
.
dyschromatopsia
difficulty in telling colors apart; color blindness.
erythrophobia
an abnormal fear of the color red.
floridity
the condition of being florid or highly colored, especially reddish, used especially of the complexion. —
florid
,
adj
.
glaucescence
1.
the state or quality of being a silvery or bluish green in color.
2.
the process of turning this color. —
glaucescent
,
adj
.
hyperchromatism
the occurrence of unusually intense coloration. —
hyperchromatic
,
adj
.
indigometer
an instrument used for determining the strength of an indigo solution.
indigometry
the practice and art of determining the strength and coloring power of an indigo solution.
iridescence
the state or condition of being colored like a rainbow or like the light shining through a prism. —
iridescent
,
adj
.
irisation
the process of making or becoming iridescent.
iriscope
a polished black glass, the surface of which becomes iridescent when it is breathed upon through a tube.
melanoscope
an optical device composed of red and violet glass that transmits red light only, used for distinguishing red in varicolored flames.
metachromatism
change in color, especially as a result of change in temperature.
monochromatism
1.
the quality of being of only one color or in only one color, as a work of art.
2.
a defect of eyesight in which the retina cannot perceive color. —
monochromatic
,
adj
.
mordancy, mordacity
the property of acting as a flxative in dyeing. — mordant,
n., adj
.
opalescence
the quality of being opallike, or milkily iridescent. —
opalescent
,
adj
.
pallidity
a faintness or deficiency in color. —
pallid
,
adj
.
panchromatism
the quality or condition of being lsensitive to all colors, as certain types of photographic film. —
panchromatic
,
adj
.
polychromatism
the state or quality of being multicolored. —
polychromatic, polychromie
,
adj
.
protanopia
a defect of the eyesight in which the retina does not respond to red. —
protanope
,
n
. —
protanopic
,
adj
.
rubescence
1.
the state, condition, quality, or process of becoming or being red.
2.
a blush.
3.
the act of blushing. —
rubescent
,
adj
.
rufescence
1.
the tendency to turn red or reddish.
2.
reddishness. —
rufescent
,
adj
.
spectrogram
a photograph of a spectrum. Also called
spectrograph
.
spectrograph
1.
an optical device for breaking light down into a spectrum and recording the results photographically.
2.
a spectrogram. —
spectrographic
,
adj
.
spectrography
the technique of using a spectrograph and producing spectrograms.
trichroism
a property, peculiar to certain crystals, of transmitting light of three different colors when viewed from three different directions. Also
trichromatism
. —
trichroic
,
adj
.
trichromatism
1.
the condition of having, using, or combining three colors.
2.
trichroism. —
trichromatic
,
adj
.
tritanopia
a defect of the eyesight in which the retina does not respond to blue and yellow. —
tritanope
, n. —
tritanopic
,
adj
.
verdancy
the quality or condition of being green, as the condition of being covered with green plants or grass or inexperience attributable to youth. —
verdant
,
adj
.
viridescence
1.
the state or quality of being green or greenish.
2.
greenishness. —
viridescent
,
adj
.
xanthocyanopsy, xanthocyanopy
a form of color blindness in which only yellow and blue can be perceived.
---
color

Noun
(countable and uncountable, plural colors) (American)
(uncountable) The spectral composition of visible light

Humans and birds can perceive color.

(countable) A particular set of visible spectral compositions, perceived or named as a class.

Most languages have names for the colors black, white, red, and green.

(uncountable) Hue as opposed to achromatic colors (black, white and grays).

He referred to the white flag as one "drained of all color".

(uncountable) Human skin tone, especially as an indicator of race or ethnicity.

Color has been a sensitive issue in many societies.

(figuratively) Interest, especially in a selective area.

a bit of local color

(heraldry) Any of the standard dark tinctures used in a coat of arms, including azure, gules, sable, and vert. Contrast with metal.
The system of color television.

This film is broadcast in color.

(in the plural) An award for sporting achievement, particularly within a school or university.

He was awarded colors for his football.

In corporate finance, details on sales, profit margins, or other financial figures, especially while reviewing quarterly results when an officer of a company is speaking to investment analysts.

Could you give me some color with regards to which products made up the mix of revenue for this quarter?

(physics) A property of quarks, with three values called red, green, and blue, which they can exchange by passing gluons.
(snooker) Any of the colored balls excluding the reds.
A front or facade: an ostensible truth actually false.
An appearance of right or authority.

Under color of law, he managed to bilk taxpayers of millions of dollars.
Usage notes
The late Anglo-Norman colour, which is the standard UK spelling, has been the usual spelling in Britain since the 14th century and was chosen by Dr. Johnson's Dictionary of the English Language (1755) along with other Anglo-Norman spellings such as favour, honour, etc. The Latin spelling color was occasionally used from the 15th century onward, mainly due to Latin influence; it was lemmatized by Webster's American Dictionary of the English Language (1828), along with favor, honor, etc., and is currently the standard US spelling.
In Canada, colour is preferred, but color is not unknown; in Australia, -our endings are the standard, although -or endings had some currency in the past and are still sporadically found in some regions.
Adjective
(not comparable) (US)
Conveying color, as opposed to shades of gray.

Color television and movies were considered a great improvement over black and white.
Verb
(third-person singular simple present colors, present participle coloring, simple past and past participle colored) (US)
To give something color.

We could color the walls red.

(intransitive) To apply colors to the areas within the boundaries of a line drawing using colored markers or crayons.

My kindergartener loves to color.

(of a face) To become red through increased blood flow.

Her face colored as she realised her mistake.

To affect without completely changing.

That interpretation certainly colors my perception of the book.

(informal) To attribute a quality to.

Colour me confused.
Origin
Middle English colo(u)r, from Anglo-Norman colur, from Old French colour, color, from Latin color, from Old Latin colos "covering", from Proto-Indo-European *kel- ("to cover, conceal"). Akin to Latin cēlō ("I hide, conceal"). Displaced Middle English blee ("color"), from Old English blēo. More at blee.
In the US, the spelling color is used to match the spelling of the word's Latin etymon, and to make all derivatives consistent (colorimeter, colorize, colorless, etc). Elsewhere in the English-speaking world, the spelling colour has been retained.
---
color - Computer Definition
---
color - Legal Definition
n
A false appearance; disguise; pretext; especially the false appearance of a claim to legal right, authority, or office. See also color of law and color of title.
The skin complexion of people who do not belong to the Caucasian or Caucasoid ethnic group. The term is frequently added to "race" in constitutional provisions and statutes barring discrimination.
---