open

o·pen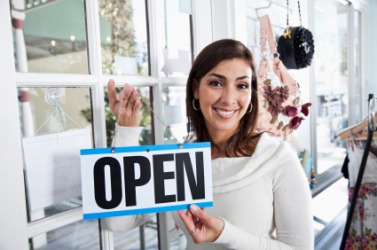 This business is open.
adjective
The definition of open is someone or something which is not closed, not enclosed or not sealed.

An example of an open business is one that is accepting customers.
An example of an open container is a container with the lid off.
---
open
in a state which permits access, entrance, or exit; not closed, covered, clogged, or shut: open doors
closed, but unlocked: the car is open

in a state which permits freedom of view or passage; not enclosed, fenced in, sheltered, screened, etc.; unobstructed; clear: open fields
having few or no trees, houses, etc.: open country

unsealed; unwrapped

not covered over; without covering, top, etc.
vulnerable to attack, etc.; unprotected or undefended

spread out; unfolded; unclosed; expanded: an open umbrella
describing or of a book, magazine, etc. in which the covers have been spread apart so that the pages can be seen, read, etc.

having spaces between; having gaps, holes, interstices, etc.: open ranks
free from ice: the lake is open
having relatively little snow or frost; mild: an open winter

that may be entered, used, competed in, shared, visited, etc. by all: an open meeting
ready to admit customers, clients, etc.

free to be argued or contested; not settled or decided: an open question

free from prejudice or bigotry; not closed to new ideas, etc.: an open mind
liberal; generous

free from legal restrictions: an open season on deer
free from discriminatory restrictions based on race, religion, etc.: open housing
free from effective regulation with respect to drinking, gambling, etc.: the city is wide open
not regulated, organized, or conducted along traditional or conventional lines: open marriage, open education

characterized by social mobility, political freedom, diversity of opinion, etc.: an open society
in force or operation: an open account

not already taken, occupied, or engaged: the job is still open
free to be accepted or rejected
designating or of a date or time when someone, an organization, etc. has no scheduled activity, specif., when a sports team is not scheduled to play a game

not closed against access; accessible; available
not hidden or secret; generally known; public: an open quarrel
frank; candid; direct; honest: an open manner

Math.

of a set of points that is the complement of a closed set of points, as the set of all points outside a circle

Music

not stopped by the finger: said of a string
not closed at the top: said of an organ pipe
produced by an open string or pipe, or, in wind instruments, brasses, etc., without a slide or key: said of a tone
not muted

Phonet.

articulated with the tongue as low as possible in the mouth; low: said of certain vowels
articulated with the tongue in the lower of two possible positions: the open e and close e in Italian
articulated with the organs of speech not in close contact; fricative: said of certain consonants
ending in a vowel or diphthong: said of a syllable

Printing

designating or of a style of type the letters of which are cast in outline so that the inside of letters shows white
with wide spacing between words or lines of type; not solid

Sports

designating a stance, as of a golfer or of a batter in baseball, in which the front foot is farther than the rear foot from an imaginary straight line, as one joining tee and green or one joining home plate and second base
Origin of open
Middle English from OE, akin to German
offen
from Proto-Germanic an unverified form
upana:
for Indo-European base see up
to make or cause to be open; specif.,

to unclose; unfasten: open the door
to remove obstructions from: to open a drain

to make an opening or openings in: to open an abscess
to make or produce (a hole, way, etc.)

to make spaces between; spread out; expand: to open ranks

to unclose, unfold, or unroll: to open an umbrella
to spread apart the covers of (a book, magazine, etc.) so that the pages can be seen, read, etc.

to make accessible or subject (to an influence or action); expose
to make available for use, competition, or participation, without restriction, taxation, fee, etc.
to free from prejudice and bigotry; make liberal and generous: to open one's mind
to make known, public, etc.; reveal; disclose
to begin; enter upon; start; commence: to open the bidding, a session, etc.
to cause to start operating, going, etc.: to open a new shop
to undo, recall, or set aside (a judgment, settlement, etc.), so as to leave the matter open to further action
to become open
to spread out; expand; unroll; unfold
to become free from prejudice, etc.; become liberal and generous
to become revealed, disclosed, etc.; come into view
to be or act as an opening; give access: with to, into, on, etc.
to begin; start
to start operating, going, bidding, etc.; specif., in the stock exchange, to show an indicated price level at the beginning of the day: steel opened high
to begin a series of performances, games, etc.
[usuallyO-] any of various tournaments, esp. in golf or tennis, open to both professionals and amateurs
open out
to make or become extended or larger
to develop
to disclose to view; reveal
open to
glad or willing to receive, discuss, etc.
liable to; subject to
available or accessible to or for
open up
to make or become open
to spread out; unfold
to start; begin

Informal

to begin firing a gun or guns

Informal

to speak freely or with great feeling

Informal

to go or make go faster or as fast as possible
the open
any open, unobstructed space on land or water
an unenclosed area; the outdoors
public knowledge
---
open
adjective
a. Affording unobstructed entrance and exit; not shut or closed.

b. Affording unobstructed passage or view: open waters; the open countryside.

a. Having no protecting or concealing cover: an open wound; an open sports car.

b. Completely obvious; blatant: open disregard of the law.

c. Carried on in full view of others; not hidden or private: open warfare; open family strife.

d. Sports Not defended or not closely defended by an opponent: an open goal; an open receiver.

a. Not sealed or tied: an open envelope.

b. Spread out; unfolded: an open book.

Having interspersed gaps, spaces, or intervals: open ranks; an open weave.

a. Accessible to all; unrestricted as to participants: an open competition.

b. Free from limitations, boundaries, or restrictions: open registration.

c. Enterable by registered voters regardless of political affiliation: an open primary.

d. Computers Of or relating to a file that can be accessed.

a. Lacking effective regulation: an open town in which gambling predominated.

b. Not legally repressed: open drug trafficking.

a. Susceptible; vulnerable: open to interpretation; an issue that is open to question.

b. Willing to consider or deal with something: open to suggestions.

a. Available; obtainable: The job is still open.

b. Available for use: an open account; the only course open to us.

Ready to transact business: The store is open.
Not engaged or filled: has an open hour for emergency cases.
Not yet decided; subject to further thought: an open question.

a.

Characterized by lack of secrecy or reserve; candid:

Please be open with me.

See Synonyms at

frank1

.

b. Free of prejudice; receptive to new ideas and arguments: She listened to the proposal with an open mind.

c. Generous: He is very open with his time.

Printing

a. Widely spaced or leaded. Used of typeset or other printed matter.

b.

Having constituent elements separated by a space in writing or printing:

The word

sea lion

is an open compound.

Music

a. Not stopped by a finger. Used of a string or hole of an instrument.

b. Produced by an unstopped string or hole or without the use of slides, valves, or keys: an open note on a trumpet.

c. Played without a mute: an open wind instrument.

Linguistics

a. Articulated with the tongue in a low position, as the vowel in far.

b. Ending in a vowel or diphthong: an open syllable.

Designating a method of punctuation in which commas and other marks are used sparingly.
Being in operation; live: an open microphone.
New England Clear. Used of weather. fair1
Electricity Containing a gap across which electricity cannot pass: an open circuit.
Mathematics

a. Of or relating to an interval containing neither of its endpoints.

b. Of or being a set such that at least one neighborhood of every point in the set is within the set.

c. Of or being a set that is the complement of a closed set.

Sports

a. Having the forward foot farther from the intended point of impact with the ball than the rear foot: an open batting stance.

b. Held or swung with the top or outer edge of the striking face pointing slightly farther away from the objective than the lower or inner edge: The club struck the ball with an open face, causing a slice.

Physics

a. Of or relating to an open system.

b. Of or relating to an open universe.
verb
o·pened, o·pen·ing, o·pens
verb
transitive
a. To make no longer closed or fastened: open a window.

b. To remove obstructions from; clear: open a drain.

a. To make or force an opening in: The surgeon opened the patient's chest.

b. To make (a hole or gap) in something: opened a hole in the levee.

c. To form spaces or gaps between: soldiers opening ranks.

d. To break the continuity of; make a gap in: open a circuit.

a. To remove the cover, cork, or lid from: open a jar.

b. To remove the wrapping from: open a package.

a. To move apart or unfold so that the inner parts are displayed; spread out: open a newspaper; open a book.

b. To part the lids or lips of: Open your eyes. Open your mouth.

a. To begin or form the start of; initiate: The scene that opens the novel.

b. To begin the operation of: open a new business.

c. To begin (the action in a game of cards) by making the first bid, placing the first bet, or playing the first lead.

To make available for use: opened the area to commercial development; opened the computer file and retrieved some data.
To make more responsive, understanding, or generous: a question that opened his mind to a different way of looking at the problem.
To make known to the public: opened the formerly classified files to reporters.
Sports To modify (one's stance), as in baseball or golf, so that it is open.

a. To perform as the first act of (a concert, for example): An up-and-coming rock group opened the music festival.

b. To perform prior to the main act of (a concert, for example): Two different bands opened the concert on Friday night.
verb
intransitive
To become no longer closed or fastened: The door opened slowly.
To draw apart; separate: The wound opened under pressure.
To spread apart; unfold: The tulips opened.
To come into view; become revealed: The plain opened before us.
To become responsive, understanding, or generous: His heart finally opened, and he understood her disappointment.

a. To be or serve as a beginning; commence: The meeting opened with a call to order.

b. To give an initial statement in a trial.

c. To begin business or operation: The store opens early on Saturday.

d. To be performed, shown, or made available to the public for the first time: The play opens next week.

e. To be priced or listed at a specified amount when trading begins: Shares opened high and fell sharply.

f. To make a bid, bet, or lead in starting a game of cards.

To give access: The room opens onto a terrace.

a. To perform as the first act of a multi-act performance: The singer was nervous to open for so many talented musicians.

b. To perform prior to the main act of a multi-act performance: The young comedians were thrilled to open for such a well-known standup comic.
noun
An unobstructed area of land or water: sailed out of the harbor into the open.
The outdoors: camping in the open.
An undisguised or unconcealed state: brought the problem out into the open.
A tournament or contest in which both professional and amateur players may participate.
A beginning: Shares were down at the market open.
Phrasal Verbs:
open up
To spread out; unfold:
A green valley opened up before us.
To begin operation or start (something):
The new store opens up next month. The band opened up the concert with an old favorite.
To begin firing:
The artillery opened up at dawn.
Informal
To speak freely and candidly:
At last the frightened witness opened up and told the truth.
To make an opening in by cutting:
The surgeon opened up the patient's chest.
To make available or accessible:
open up new markets.
Informal
To accelerate. Used of a motor vehicle.
Sports
To get a sudden, insurmountable lead in (an athletic contest).
Origin of open
Middle English
from
Old English; see
upo
in Indo-European roots.
Related Forms:
---
open

Adjective
(comparative more open, superlative most open)
(not comparable) Which is not closed; accessible; unimpeded; as, an open gate.

Turn left after the second open door.
It was as if his body had gone to sleep standing up and with his eyes open.

Not drawn together, closed, or contracted; extended; expanded.

an open hand; an open flower; an open prospect

(not comparable) Actively conducting or prepared to conduct business.

Banks are not open on bank holidays.

(comparable) Receptive.

I am open to new ideas.

(not comparable) Public; as, an open letter, an open declaration.

He published an open letter to the governor on a full page of the New York Times.

(mathematics, topology, of a set) Which is part of a predefined collection of subsets of , that defines a topological space on .
(computing, not comparable, of a file, document, etc.) In current use; mapped to part of memory.

I couldn't save my changes because another user had the same file open.

(business) Not fulfilled.

I've got open orders for as many containers of red durum as you can get me.

Not settled or adjusted; not decided or determined; not closed or withdrawn from consideration.

an open question
to keep an offer or opportunity open

(music, stringed instruments) Without any fingers pressing the string against the fingerboard.
Not of a quality to prevent communication, as by closing waterways, blocking roads, etc.; hence, not frosty or inclement; mild; used of the weather or the climate.

an open winter

(phonetics) Uttered with a relatively wide opening of the articulating organs; said of vowels.
(phonetics) Uttered, as a consonant, with the oral passage simply narrowed without closure.
Verb
(third-person singular simple present opens, present participle opening, simple past and past participle opened)
To make something accessible or removing an obstacle to something being accessible.

Turn the doorknob to open the door.
He opened a path through the undergrowth.

To bring up (a topic).

I don't want to open that subject.

To make accessible to customers or clients.

I will open the shop an hour early tomorrow.

To start (a campaign).

Vermont will open elk hunting season next week.

(intransitive) To become open.

The door opened all by itself.

(intransitive) To begin conducting business.

The shop opens at 9:00.

(intransitive, poker) To bet before any other player has in a particular betting round in a game of poker.

After the first two players fold, Julie opens for $5.

(intransitive, poker) To reveal one's hand.

Jeff opens his hand revealing a straight flush.

(computing, intransitive, of a file, document, etc.) To load into memory for viewing or editing.
Noun
(plural opens)
(electronics) a wire that is broken midway.

The electrician found the open in the circuit after a few minutes of testing.

(with the) Open or unobstructed space; an exposed location.

I can't believe you left the lawnmower out in the open when you knew it was going to rain this afternoon!
Wary of hunters, the fleeing deer kept well out of the open, dodging instead from thicket to thicket.
Origin
From Middle English open, from Old English open ("open"), from Proto-Germanic *upanaz ("open"), from Proto-Indo-European *upo ("up from under, over"). Cognate with Scots open ("open"), Saterland Frisian eepen ("open"), West Frisian iepen ("open"), Dutch open ("open"), Low German open, apen ("open"), German offen ("open"), Swedish öppen ("open"), Norwegian open ("open"), Icelandic opinn ("open"). Compare also Latin supinus ("on one's back, supine"), Albanian hap ("to open"). Related to up.
---
open - Computer Definition
(1) To engage a file for reading and writing. Technically, an app is "run" and the data file is "opened." For example, after a word processing application is "loaded and run," a document is "opened" for editing or printing. Then, the document is "closed," and the app is "exited." Apps are also said to be "opened" and "closed." In the case of a script or batch file, "open" can mean "open" for editing or "open and run." The difference is significant. Opening a batch file to edit its contents causes no action until the user makes changes, whereas opening and running a batch file causes instructions to be executed. Contrast with close.
(2) To "run" a program (application). "Open" is increasingly used to mean "load and run."
(3) With regard to a switch, open is "off." See switch.
(4) Made to operate or function compatibly with other products. See open architecture, open system and open source.
---
open - Legal Definition
adj
Free from concealment; readily viewable by the public; unobstructed.
Apparent; notorious.
Not closed, or final; still under consideration.
---