option

op·tion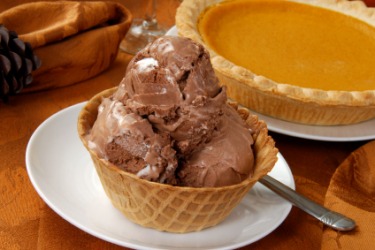 Two delicious dessert options!
noun
The definition of an option is the choice or the power to make a choice, or a contract for the right to buy or sell something at a specific price within a specific time period.

An example of an option is the choice between ice cream and pumpkin pie for dessert.
An example of an option is the ability to buy ABC stock at a certain price, regardless of the prevailing market price.
---
option
the act of choosing; choice
the power, right, or liberty of choosing

something that is or can be chosen; choice
an optional item that can be purchased to supplement or enhance another consumer item

a contract by which one person, company, etc. gives another, for a consideration, the right to buy, sell, or lease something, sign or renew a contract, etc. at a specified price and within a specified time

Football

an offensive play in which the ball carrier decides whether to hand off, run with, lateral, or pass the football
Origin of option
French from Classical Latin
optio
from
optare,
to wish, desire, ultimately from Indo-European an unverified form
op-,
to choose, prefer
Sports

to transfer (a player) to a minor league with the option of recalling him
to grant or acquire by means of an option (noun); specif., to buy or sell (rights) to (a book, film, etc.) in this way
---
option
noun
The act of choosing; choice: Her option was to quit school and start her own business.
The power or freedom to choose: We have the option of driving or taking the train.

a. The right, usually obtained for a fee, to buy or sell an asset within a specified time at a set price.

b. A contract or financial instrument granting such a right: a stock option.

c. The right to make a movie adaptation of a literary work or play: a movie studio that purchased an option on a book.

d. Baseball The right of a major-league team to transfer a player to a minor-league team while being able to recall the player within a specified period.

Something chosen or available as a choice. See Synonyms at choice.
An item or feature that may be chosen to replace or enhance standard equipment, as in a car.
Football An offensive play in which a back, usually the quarterback, decides during the play whether to run with the ball, throw a pass, or make a lateral, depending on the actions of the defense.
transitive verb
op·tioned, op·tion·ing, op·tions
To acquire or grant an option on: "had optioned for a film several short stories about two policemen" ( Barbara Goldsmith )
Baseball To transfer (a major-league player) to a minor-league club on option.
Origin of option
Latin
optiō
optiōn-
---
option

Noun
(plural options)
One of the choices which can be made.
The freedom or right to choose.
(finance) A contract giving the holder the right to buy or sell an asset at a set strike price; can apply to financial market transactions, or to ordinary transactions for tangible assets such as a residence or automobile.
(graphical user interface) A button on a screen used to select an action (often "menu option")
Verb
(third-person singular simple present options, present participle optioning, simple past and past participle optioned)
To purchase an option on something.

The new novel was optioned by the film studio, but they'll probably never decide to make a movie from it.
---
option - Investment & Finance Definition
A contract that gives the buyer the right to purchase (call) a security from the option writer or to sell (put) a security to the writer. A writer is the investor who creates the option, hoping to profit from the premium that the purchaser pays. An option specifies a price at which the option can be executed (called the strike, or exercise, price), and a time period during which the option is valid. Exchange-traded options have standardized terms, while those traded between individuals are customized. Options provide a type of insurance for investors who want to lock in a maximum price that they can buy a stock or other investment for or a minimum price at which the stock can be sold.
---
option - Legal Definition
n
n
n
n
v
The power or right to make a choice.
A contract to keep an offer open for a specified period of time so that the person making the offer cannot suddenly withdraw it during that period.
The right carried by that contract.
The right to sell or buy a certain number of stocks or bond at a set price within a specified time period.
To give or take an option on something.
---