quotation

quo·ta·tion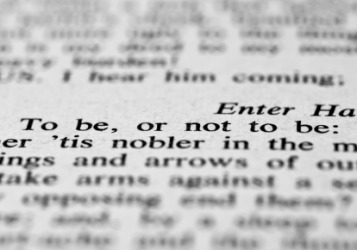 A Shakespearian quotation.
noun
The definition of a quotation is words or phrases that are taken from someone else or from literary work or the asking price of something.

An example of a quotation is when you take a passage from Shakespeare and repeat it as written without changing any of the words.
An example of a quotation for a stock is the price of $24.56-$24.58.
---
quotation
the act or practice of quoting
the words or passage quoted

Commerce

the current quoted price of a stock, bond, commodity, etc.
a document containing such a price or prices, usually an offer to sell that which is quoted
Origin of quotation
Medieval Latin
quotatio
---
quotation
noun
The act of quoting.
A passage quoted.
An explicit reference or allusion in an artistic work to a passage or element from another, usually well-known work: "Direct quotations from other paintings are fairly sparse" ( Robert Hughes )

a. The quoting of current prices and bids for securities and goods.

b. The prices or bids cited.
Related Forms:
---
quotation

Noun
(plural quotations)
A fragment of a human expression that is repeated exactly by somebody else. Most often a quotation is taken from literature or speech, but scenes from a movie, elements of a painting, a passage of music, etc., may be quoted.

"Where they burn books, they will also burn people" is a famous quotation from Heinrich Heine.

The act of naming a price; the price that has been quoted.

Let's get a quotation for repairing the roof before we decide whether it's worth doing.
---
quotation - Legal Definition
n
A passage, from an authority, that is quoted, cited, and attributed to its source.
The statement of the price of a stock or other financial instrument.
---