record

re·cord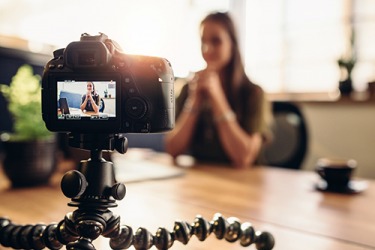 Kristen attaches her phone to a tripod in order to record her own blog videos.
noun
The definition of a record is something on which sound or images has been preserved or a permanent file of something.

An example of record is a collection on a CD of songs by The Beatles.
An example of record is a list of crimes that a person has committed.
verb
Record is defined as to register in a permanent form for playback or to make a permanent file of something.

An example of record is for a parent to use a video camera to document his son's first birthday party.
An example of record is to take the minutes of a staff meeting.
---
record
to put in writing, print, etc. for future use; draw up an account of: to record the day's events
to make a permanent or official note of: to record a vote

to indicate automatically and permanently, as on a graph or chart: a seismograph records earthquakes
to show, as on a dial: a thermometer records temperatures

to remain as evidence of: metal tools record a superior civilization

to register (sound or visual images) in some permanent form by mechanical or digital means for later reproduction, as on a playback device
to register the performance of (a musician, actor, composition, etc.) on discs, tapes, etc. in this way
Origin of record
Middle English
recorden
, to report, repeat (also, to sing, practice a tune, warble) from Old French
recorder
, to recount, recite, repeat from Classical Latin
recordari,
to call to mind, remember from
re-,
again +
cor
(gen.
cordis
), mind, heart
to record something
to admit of being recorded
noun
rec′ord
the condition of being recorded

anything that is written down and preserved as evidence; account of events
anything that serves as evidence of an event, etc.
an official written report of public proceedings, as in a legislature or court of law, preserved for future reference

anything that written evidence is put on or in, as a register or monument

the known or recorded facts about anyone or anything, as about one's career
the recorded offenses or crimes of a person who has been arrested one or more times

something on which sound or visual images have been recorded; esp., a thin, flat, grooved disc for playing on a phonograph
the best performance, highest speed, greatest amount, highest rate, etc. achieved, esp. when officially recorded

Comput.

a group of logically related fields, dealt with as a unit

Sports

the number of games, matches, etc. won and lost by a team or person
Origin of record
ME < OFr < the v.
adjective
rec′ord
establishing a record as the best, largest, etc.: a record crop
go on record
to state one's opinions publicly or officially
like a broken record
repeating the same words or message over in a mechanical or tiresome way
Origin of record
in ref. to an imperfection on a phonograph record that causes the tonearm to keep tracking the same section
off the record
not for publication or public release; confidential(ly)
on (the) record
recorded; publicly or officially declared or known
---
record
verb
re·cord·ed, re·cord·ing, re·cords
verb
transitive
To set down for preservation in writing or other permanent form: She recorded her thoughts in a diary.
To register or indicate: The clerk recorded the votes.

a. To render (sound or images) into permanent form for reproduction in a magnetic or electronic medium.

b. To record the words, sound, appearance, or performance of (someone or something): recorded the oldest townspeople on tape; recorded the violin concerto.
verb
intransitive
To record something.
noun
rec·ord
a. An account, as of information or facts, set down especially in writing as a means of preserving knowledge.

b. Something on which such an account is based.

c. Something that records: a fossil record.

Information or data on a particular subject collected and preserved: the coldest day on record.
The known history of performance, activities, or achievement: your academic record; hampered by a police record.
An unsurpassed measurement: a world record in weightlifting; a record for cold weather.
Computers A collection of related, often adjacent items of data, treated as a unit.
Law A transcript or a collection of statements and related information reporting the proceedings of a legislative body, a court, or an executive.

a. A disk designed to be played on a phonograph.

b. A musical recording that is issued on a medium of some kind.
Origin of record
Middle English
recorden
from
Old French
recorder
from
Latin
recordārī
to remember
re-
re-
cor
cord-
heart
; see
kerd-
in Indo-European roots.
---
record

Noun
(plural records)
An item of information put into a temporary or permanent physical medium.

The person had a record of the interview so she could review her notes.
The tourist's photographs and the tape of the police call provide a record of the crime.

Any instance of a physical medium on which information was put for the purpose of preserving it and making it available for future reference.

We have no record of you making this payment to us.

A vinyl disc on which sound is recorded and may be replayed on a phonograph.

I still like records better than CDs.

(computing) A set of data relating to a single individual or item.
The most extreme known value of some achievement, particularly in competitive events.

The heat and humidity were both new records.
The team set a new record for most points scored in a game.
Origin
From Middle English recorden ("to repeat, to report"), from Old French record, from recorder. See record (verb).
Verb
(third-person singular simple present records, present participle recording, simple past and past participle recorded)
To make a record of information.

I wanted to record every detail of what happened, for the benefit of future generations.

Specifically, to make an audio or video recording of.

Within a week they had recorded both the song and the video for it.

(law) To give legal status to by making an official public record.

When the deed was recorded, we officially owned the house.

(intransitive) To fix in a medium, usually in a tangible medium.
(intransitive) To make an audio, video, or multimedia recording.
Fairfax

They longed to see the day, to hear the lark / Record her hymns, and chant her carols blest.
---
record - Computer Definition
(1) Pronounced "reck-erd," a group of related and adjacent fields of data about a subject or transaction. A collection of records makes up a database file or simple flat file. See flat file, relational database and master file.
(2) Pronounced "reck-erd," a block of data read and written at one time by the operating system's file system. The contents of a block may contain any type of data and are not a one-to-one relationship to database records as in definition #1 above. See file system.
(3) Pronounced "ruh-kord," to capture audio or video onto a magnetic tape, magnetic disk or solid state memory.
(4) Pronounced "reck-erd," an analog audio recording pressed into a vinyl disc, although early 78 RPM records were a mixture of shellac, cotton, slate and wax. These records are known as "phonograph records" or "gramophone records." See LP.
---
record - Legal Definition
n
v
A documentation of things past in writing; often the exact history of a legal proceeding; information stored in electronic form on some medium such as computer drive, CD, or DVD; the official transcript of a trial or proceeding that contains its word-by-word documentation. 
the act of filing a document with a court or official office, as in "to record a deed." 
record on appeal
A presentation to an appellate court of all the testimony and items introduced into evidence in the lower court, plus the compiled pleadings, briefs, motions, and other papers filed with the inferior court.
record, public
Any document affecting real property, such as a deed or a mortgage concerning land within a particular jurisdiction of the government keeping that record.
---