respite

res·pite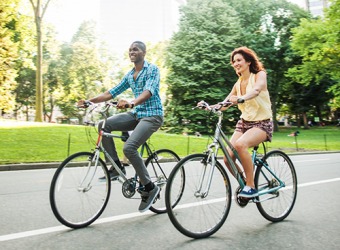 Bike rides in the park on the weekends are Jesse and Amanda's respite from their demanding jobs.
noun
Respite is defined as a break or a rest.

An example of a respite is a family vacation.

The definition of respite is a delay.

An example of a respite is governor putting off someone's death sentence.
verb
To respite means to delay or postpone.

An example of to respite is to hold off discussing a specific subject at a meeting.
---
respite
a delay or postponement; esp., postponement of the carrying out of a death sentence; reprieve
an interval of temporary relief or rest, as from pain, work, or duty; lull
Origin of respite
Middle English from Old French
respit
from Classical Latin
respectus:
see respect
transitive verb
-·pited

,

-·pit·ing
to give a respite to
---
respite
noun
A usually short period of rest or relief. See Synonyms at pause.
Law

a. Temporary suspension of the execution of a sentence.

b. Forbearance or delay, as granted in the payment of a debt.
transitive verb
res·pit·ed, res·pit·ing, res·pites
To delay (a legal sentence, for example); postpone.
To grant a respite to (someone).
adjective
Relating to or being a respite: respite care.
Origin of respite
Middle English
from
Old French
respit
from
Latin
respectus
refuge, looking back
; see
respect
.
---
respite

Verb
(third-person singular simple present respites, present participle respiting, simple past and past participle respited)
---
respite - Legal Definition
n
A delay or postponement of a sentence, or one granted to a jury or court for further consideration or deliberation. In all cases, it is temporary.
---