retire

re·tire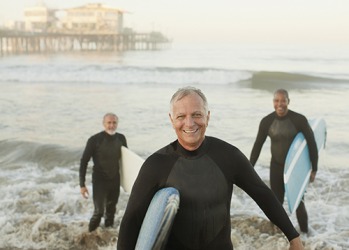 Dan couldn't wait to retire so he could surf more often with his buddies.
verb
Retire is defined as to take out of use, go to bed, or a person giving up their work.

An example of retire is Germany stopping the use of the mark as currency.
An example of retire is someone going to bed at ten o'clock.
An example of retire is what a currently working person born after 1960 can do when they reach age 67.
---
retire
intransitive verb
-·tired′

,

-·tir′ing
to go away, retreat, or withdraw to a private, sheltered, or secluded place
to go to bed
to give ground, as in battle; retreat; withdraw
to give up one's work, business, career, etc., esp. because of advanced age
to move back or away, or seem to do so
Origin of retire
French
retirer
from
re-,
back +
tirer,
to draw from Vulgar Latin an unverified form
tirare
to withdraw or move in retreat: to retire troops from an action

to take (money) out of circulation
to take up or pay off (stocks, bonds, bills, etc.)

to cause to retire from a position, job, or office
to withdraw from use: to retire outdated machinery

Baseball

to end the batting turn of (a batter, side, etc.) by putting the batter, side, etc. out
---
retire
verb
re·tired, re·tir·ing, re·tires
verb
intransitive
To withdraw from one's occupation or position, especially upon reaching a certain age; stop working.

a. To move away or withdraw, as for rest or seclusion: The guests retired to the living room.

b. To fall back or retreat, as from battle.

To go to bed.
verb
transitive
a. To cause to withdraw from one's usual field of activity: The board must retire all executives at 65.

b. To withdraw from use or active service: retire an old battleship.

a. To take out of circulation: retired the bonds.

b. To pay off: retire one's debts.

To lead (troops, for example) away from action; withdraw.
Baseball

a. To put out (a batter).

b. To cause (the opposing team) to end a turn at bat.
Origin of retire
French
retirer
to retreat
from
Old French
to take back
re-
re-
tirer
to draw
; see
tier
1
.
---
retire

---
retire - Legal Definition
v
Applying to drafts, to redeem by paying out a sum of money; to withdraw from the market by buying back; a voluntary leaving of public office, or other form of employment; a leaving the courtroom by the jury to consider the case, or by the judge to her chambers.
---