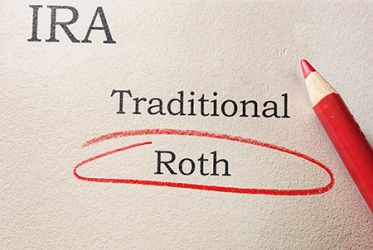 One advantage of a Roth IRA is that money can be withdrawn penalty-free at any age versus paying a penalty for withdrawals under age 59 1/2 with a traditional IRA.
noun
The definition of a Roth IRA is a type of tax-advantaged individual retirement account which allows the funds to be withdrawn tax free once the account owner reaches retirement age.

An example of a Roth IRA is an account that you open for your retirement that receives special tax treatment from the IRS.
---
Roth IRA
Origin of Roth IRA
after Senator W. V.
Roth
(1921-2003), Senate Finance Committee chairman who sponsored legislation creating this kind of account
---
Roth IRA
noun
A modified individual retirement account in which a person can set aside after-tax income up to a specified amount each year. Earnings on the account are tax-free, and tax-free withdrawals may be made after age 5912.
Origin of Roth IRA
After William Victor
Roth
, Jr. (1921-2003), US congressman
---
roth-ira

Origin
After William V. Roth Jr., who pushed for legislation that would allow for such IRAs; and IRA, initialism of individual retirement account.
---
roth ira - Investment & Finance Definition
An individual retirement account (IRA) that was introduced in 1998 and provides an alternative to a traditional IRA. With a Roth IRA, deductions can only be made with after-tax money. However, earnings are not taxed when the distribution is taken at 59⁄ years of age after holding the account for at least 5 years.
Money for certain eligible expenses can be withdrawn before age 59⁄ without paying tax or penalties, provided that the account has been active for five years. Those expenses include higher education, $10,000 for a first-time home purchase, and payment of health insurance for unemployed people.
A contribution of $3,000 a year can be made for a single person who earns up to $95,000, with ineligibility starting to occur at $110,000. Married couples can contribute $6,000 if they earn up to $150,000, with eligibility phasing out at $160,000.
---
roth ira - Legal Definition
n
A special form of individual retirement account, in which contributions are not tax deductible when made, but that compensates by making the gains distributable tax free upon the owner's reaching age 70sup>1/sup>⁄2. See also
individual retirement account
and
Keogh Plan
.
---