salvage

sal·vage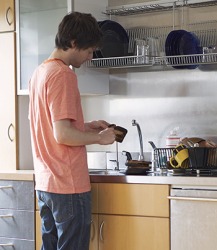 Seth attempted to salvage his burnt toast by scraping off the outside layer.
noun
Salvage is the act of saving something such as a ship or its cargo, the actual thing which is saved or the value of the goods saved.

An example of salvage is the protecting of cargo from going overboard.
An example of salvage is the fixing of a science project that has been destroyed.
verb
Salvage is defined as to save from something.

An example of salvage is to fix a cake that has begun to burn.
---
salvage
the voluntary rescue of a ship or its cargo at sea from peril such as fire, shipwreck, capture, etc.
compensation paid for such a rescue
the ship or cargo so rescued
the recovery of a sunken or wrecked ship or its cargo as by divers

the saving or rescue of any goods, property, etc. from destruction, damage, or waste
any material, goods, etc. thus saved and sold or put to use
the value, or proceeds from the sale, of such goods, specif. of damaged goods, as involved in insurance claim settlements
Origin of salvage
French from Middle French from
salver
, to save
transitive verb
-·vaged

,

-·vag·ing
to save or rescue from shipwreck, fire, flood, etc.; engage or succeed in the salvage of (ships, goods, etc.)
---
salvage
noun
a. The rescue of a ship or its cargo from fire or shipwreck.

b. The ship or cargo saved in such a rescue.

c. Award given to those who aid in such a rescue when under no obligation to do so, especially in the form of a portion of the cargo.

d. The recovery of a sunken ship or its cargo by divers or submersibles.

a. The act of saving imperiled property from loss.

b. The property so saved.

Something saved from destruction or waste and put to further use.
transitive verb
sal·vaged, sal·vag·ing, sal·vag·es
To save from loss or destruction.
To save (discarded or damaged material) for further use.
Origin of salvage
Obsolete French
from
Old French
salvaige
right of salvage
from
Late Latin
salvāre
from
Latin
salvus
safe
; see
sol-
in Indo-European roots.
Related Forms:
---
salvage

Noun
(plural salvages)
the ship, crew or cargo so rescued
the compensation paid to the rescuers
the similar rescue of property liable to loss; the property so rescued
anything that has been put to good use that would otherwise have been wasted
Verb
(third-person singular simple present salvages, present participle salvaging, simple past and past participle salvaged)
Of property, people or situations at risk, to rescue
Of discarded goods, to put to use
To make new or restore for the use of being saved
Origin
From Old French salver, from Late Latin salvare ("to make safe, secure, save"), from Latin salvus ("safe").
Noun
(plural salvages)
Obsolete spelling of savage. [16th-19th c.]
Origin
Alternative forms.
---
salvage - Legal Definition
n
In general, it is the value of a piece of equipment or other property after it has been functionally rendered useless for the purpose for which it was intended. In the case of a totally wrecked automobile, for example, it is the depreciated value of whatever usable parts that can be resold in used condition, plus the value per pound of the remaining scrap metal; in maritime law it's compensation for a service voluntarily given to a vessel in peril that removes it from danger by the sea; in insurance law, the first definition applies, with the proviso that the amount of salvage is deducted from what is paid to the insured.
---